the helmet of the semester 02: helmet non-commissioned officer
of Baden field-artillery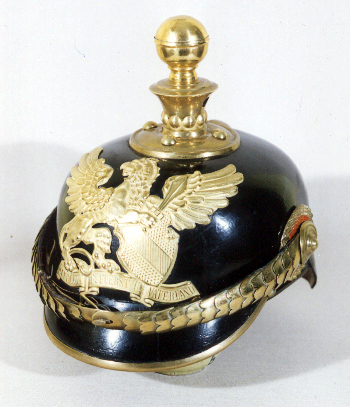 The ball on the top characterizes the artillery helmets of the Army of the German Empire, except for.... Bavaria that didn't left the spike bafore..... 1915. Helmets with flat chinscales were carried by the Rgts of foot artilleury (Fussartillerie), those with convex chinscales by the Rgts of fieldartillery (Feldartillerie), except for..... Bavaria that in April 1914 to generalized the convex chinscales also for helmets and schakos of foot troops. Between 1867 and 1918, Badish helmets practically followed the Prussian dress fashion and regulation, except for the plate and the state cockade. The headplate of the Great-Duchy of Baden was a crowned griffin standing on scroll with the motto "mit Gott für Fuerst und Vaterland". Let's note that the headband of reservist headplates didn't include text, the slogan being written on the small cross placed on the griffin. Other ranks Badish cockade was yellow with a red painted ring (if the rosette was made of brass the red ring only was painted). Officers' and the senior non-commissioned officers' cockades were t waved and gilt. They were painted in red, with a ring left gilt on the edge. Non-commissioned officers had to wear the helmet of troop with as only distinction a streaky ring on the empire (or Prussian) cockade. Warrabt NCO bought themselves distinctly more luxurious fantasy helmets which were worn out of duty. The here presented helmet is one of those. The helmet body in high quality leather has a fine thin peakmount, the spike neck has a pearl decoration of the troop pattern (as in Prussia suppressed in 1887, but tacitly allowed on the fantasy helmets). The spike neck includes only two ventilation holes and the rear spine has not the ventilation sutter introduced in 1895. Fittings are gilt, the plate being matt gilt. The lining of this helmet is of officer's quality made of leather and silk. The Great-Duchy of Baden had in 1914, 5 regiments of Feldartillery and one Rgt of Fussartillerie. For parades, the first Badish Rgt.nr.14 of Feldartillerie only carried a black (red for musicians) Haarbusch plume instead of the top ball.
One can find strange Badish helmets with top ball but with their fitting all in white or silvery metal, cruciform spikebase as on dragoons'helmets but with round front peak. Motto of the headband not regular. Griffin sometimes without the crown. These are firemen helmets made....... until 1940.

---
Contents of the Uhlan on the web
Cette page a été mise à jour le 3/09/2000